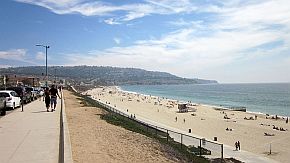 Walking along Torrance Beach
Former recruiter David Alan Carter evaluates the 10 most popular online resume services, comparing writing quality, customer service, pricing and more. See how they stack up.
Resume Service Reviews

___
___

Looking for a...
Torrance CA Resume Service?
Below, find a lineup of local Torrance CA Resume Writing Services led by the top-rated online resume writing firm serving the Torrance, California area. Active links where available. Also, find key employers and links to popular job boards. --David Alan Carter
Torrance CA Resume Services...
including our top-rated online writer network serving Torrance, CA
Top Torrance Employers...
along with links to popular job boards, etc.

ResumeWriters.com - Top-Rated Online Resume Service


Good balance of price, service and quality of workmanship propels this firm to my top spot. That, and a 99.8% customer satisfaction rating. Plus, your new resume is guaranteed to land an interview. My in-depth REVIEW.
ResumeWriters.com
___

EDA Business Support Services




23441 Madison Street #315, Torrance, California

(310) 373-0100
___

SmartChoice Resume




Torrance, CA

(310) 347-6761
___

From Layoff To Launch Pad


21151 South Western Avenue, Torrance, California

(213) 426-0599
___

The Resume Desk




Southwood Riviera, Torrance, CA

(424) 757-4562
___

ABC & ASAP Resume & Writing


23505 Crenshaw Boulevard, Torrance, California

(310) 530-0470
___

Mighty Prose Ghostwriting




California 1, Torrance, CA

(310) 508-5750
___

Are you the owner of a brick-and-mortar Torrance CA resume service that's not listed here? Want to be? Just contact us and let us know!
___

(Note: these links open a new window)

Government Employers in Torrance, CA
-- City of Torrance CA Job Opportunities

Top Employers in Torrance, California

Popular Job Boards

About...
For a city of just over 20 square miles, Torrance has lot of trees; almost 90,000 scattered throughout the city and in 30 local parks. The city's motto boasts that it is "balanced," but this city with a high-tech industrial base is certainly one of LA's suburbs with the most beaches and parks.

While Torrance is primarily a residential community, it does have some strong roots in the business sector. Both Toyota Motor Sales and the American Honda Motor Company have their national headquarters in the city and Robinson Helicopters, Alcoa and Honeywell have significant manufacturing plants located there. Lastly, the Exxon refinery in the north of the city is responsible for producing most of the gasoline for the LA area.

Also known as T-Town, the city does not neglect its residents. It is home to Del Amo Fashion Center, one of the five largest mall in the country as well as a thriving downtown full of cafes, boutiques and restaurants. The city's cultural arts center is home to a ballet, a master choir, a theatrical repertory as well as a conservatory group and full symphony.

Torrance has indeed managed to stay balanced in its approach to people, business and nature. It is a remarkable achievement in city so close to the confines of downtown LA.

Additional information on the local economy and key employers...